Custom talus implant
By Dr. Rajiv Shah
Customized Talus Replacement is still a rarity in foot and ankle surgeries in India. However, recent literature shows promising results and mentions advantages like; It avoids LLD (leg length discrepancy), able to achieve a wide range of motion, shortens surgical time, reduces overall logistic cost, optimizes balance with the available range of sizes.
Talus replacement could be used in conditions like osteonecrosis and trauma. We are glad to share one of our customized talus cases in collaboration with a pioneer surgeon in the field of total Talur replacement in India Dr. Rajiv Shah, Head of Foot and Ankle Surgeries, Sunshine Global Hospital, Vadodara.
We planned to Visualize, Plan, and then execute
Visualization:
The process begins with accurate CT scan acquisition of bilateral ankle which is significant for radiological evaluation of deformed talus. Proper traction was ensured during the scan so we can get a better idea actual gap available. Post evaluation, our skilled segmentation team assured that every anatomical information is perfectly converted in 3D model as defined by surgeon.
Planning:
Detailed preop planning is the most important step and plays pivotal role in the outcome of the surgery. Preop planning session with Dr. Shah was particularly very helpful in understanding his perception and intended use. Once the requirement was cleared the complete plan was proposed to him.
Key steps involved –
Contra-lateral talus was mirrored and registered with diseased talus using registration tools.
Subsequently, we verified the conformity and location of registered talus with diseased neighboring bone. Fact that 70% of talus bone involves in articulation, makes it critical to verify all the peripheral joints alignment wrt. registered talus including tibia, navicular, calcaneus, and fibula.
Rotation and flexion of the talus was also evaluated to assure it has been registered in desired alignment
Sizing prediction based on the existing gaps was initiated. We provided three sizes with as low as 10% volume difference to original. The sizes were -1, 0 and +1.
Range of sizes allow surgeon to select appropriate size after intra-operative assessment of the joint
Considering the talus placement could be tedious and cumbersome when placed with hand during the surgery, we also developed detachable long handle which could be used for placing the ankle while trialing different sizes
The hole which is used to attach the long handle was closed with anterior screw to restrict blood inside the 3D printed talus.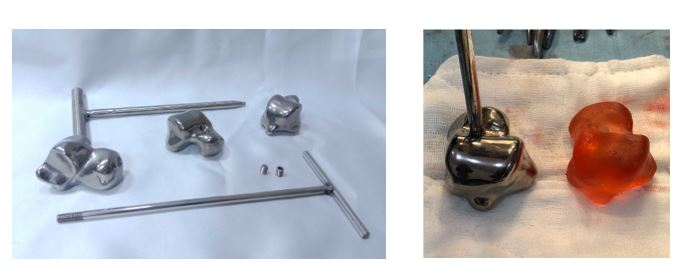 3D Printing:
Once the plan was approved by the surgeon, the design was transferred for manufacturing. We follow two steps of 3D printing during the first step all the prototypes of design consisting ankle joint with anatomical gap along with trial sizes were provided. These prototypes help surgeon to validate the concepts and gives flexibility in case any last-minute changes required. Once surgeon has provided his approval, final metal 3D printing of talus sizes was manufactured and delivered in non-sterile form.
Conclusion:3D printed talus as a derivation and extension of detailed preop planning is always holds edge over conventional approach and it has been validated in this case. Surgeon was able to achieve his desired results.

Dr. Rajiv Shah
Sunshine Global Hospital, India