Complex Orbital Implant
Case Information
30Y/M was diagnosed with a right orbital fracture, that damaged the orbital floor supporting the eyeball. This resulted in distorted eye position affecting the line of vision.
Visualisation:
For understanding the region of interest and damage of the orbital floor, segmentation was done using the CT data of 1mm slice thickness.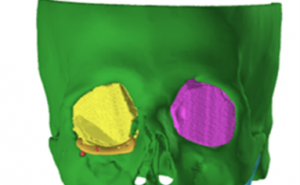 Planning:
After segmentation, the plan was to visualize and measure both the orbital floors and move ahead with reconstruction using a customized orbital implant.
Key steps involved –
1. Eye volume was measured for the side.
2. The left healthy side was mirrored with the right orbital region along with the volume measurements.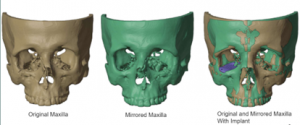 3. The implant was designed for the orbital floor with the measured data. And it was placed on the orbital floor.
3D Printing
The surgical plan was turned into physical models to analyze the outcome once it was accepted and finalized. Models for pre-op, intermediate, and post-op were printed. The customized implant was printed in medical-grade titanium.
Conclusion
The use of a patient-specific implant and pre-planning of the surgical approach resulted in accurate restoration, reduced intra-operative time, and a rapid recovery for the patient.